CMMS & Preventive Maintenance Management Software

Introducing PMXpert Software
An Investment in Your Success

What do YOU want from your CMMS?
What's the ideal Preventive Maintenance Management Software system in your mind?
PMXpert Software is the right solution for you if you want your maintenance software to be...
Controlled & Flexible
Get control over your internal procedures, but still have flexibility with PMXpert's management-controlled settings.
Powerful & Easy to Use
PMXpert is very powerful and sophisticated, with comprehensive features, but at the same time, is still easy to use.
Efficient
Save time with PMXpert... instead of wasting valuable time on managing a so-called maintenance management system.
Logical
You only need to enter critical data in PMXpert ONCE... not once in Module A, again in Module B, and then 3 more times just for good luck.
Adaptable
Not all maintenance departments are the same. PMXpert gives real choices in how to best use the system for your unique requirements.
Straightforward
PMXpert eliminates finicky, time-wasting "busywork" so that you can concentrate on the big, important goals for your organization.
Solid & Reputable
PMXpert is produced by a company that is development-focused and highly experienced...not a fly-by-night business that is more worried about flashy marketing and quick sales-sales-SALES!
Supported
PMXpert comes backed by real, in-house Support by real people that actually answer phones and send emails they typed all by themselves. Oh, yes, and they actually know what they're doing.
"PMXpert has added greatly to our maintenance program, we do not have to guess when we need to do oil changes or replace parts, work orders popup with a list of parts needed and when it needs to be performed. With the inventory control we can cut down on our downtime by getting the parts we need, from appointed locations. This saves a lot of time looking for parts."

Russ Anzalone,
ECR International
If these are the things you really want – and you're not about to compromise – PMXpert Software is the solution for you.
An investment in PMXpert Software is an investment in your entire organization's success.
Find what you need to know
Learn more about PMXpert Software by following the links: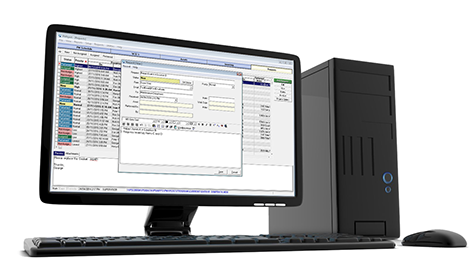 Take your preventive maintenance management
to a whole new level with PMXpert

CMMS & Preventive Maintenance Management Software

Copyright 2017 Profit Systems Inc.
All rights reserved